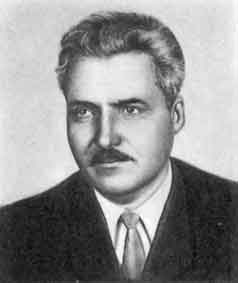 Simonov, Konstantin Mikhailovich. Born on 18 November 1915 (28 November, Old Style). His father was a teacher at a military academy. Later, the family moved to Ryazan then Saratov.

After completing his basic education, in 1930 Simonov entered the factory school in Saratov for training as a turner. In 1931 his family moved to Moscow, where Simonov began his working career as a factory mechanic. Around this same time he began writing poetry.

His first published poems appeared in the journals Molodaya Gvardiya and Oktyabr in 1936.

Simonov enrolled in the Gorky Literary Institute, from which he graduated in 1938. That same year he published his first long poem, Pavel Chernii, praising the builders of the Belomorsk-Baltic Canal.

In 1939, Simonov was sent to Khalin-Gol in Mongolia as a military correspondent. In 1940, he wrote his first play, The Story of One Love (Istoriya Odnoi Liubvi); and in 1941 his second, A Fellow From Our Town (Paren Iz Nashevo Goroda).

At the outbreak of the Great Patriotic War, Simonov was called up for army duty, serving as a correspondent for the newspaper Boevoe Znamya ("Battle Flag"). In 1942, he joined the Party and was given the rank of senior batallion commissar. He was promoted to lieutenant-colonel in 1943, and after the war he became a full colonel.

Much of his war-time correspondence appeared in the paper Krasnaya Znamya. During the war, he wrote three more plays: Russian People (Russkiye Liudi, 1942), Wait for Me (Zhdi Menya), and So Shall It Be (Tak i Budet). Russian People takes as its subject ordinary Russians both on the Soviet side of the front and behind German lines during the war. Unassuming bravery and patriotism prevail. A young girl driver is sent on a dangerous reconnaissance mission behind enemy lines.

Simonov also produced two books of poems: With you and Without You (S Toboi i Bez Tebya) and War (Voina).

Simonov's most famous piece of war-time fiction is the short novel Days and Nights (Dni i Nochi. 1944). Set in Stalingrad in the dark days of late 1942, it tells the story of a batallion commander and his troops defending three apartment buildings (or rather the rubble of three buildings) for seventy days. With their backs to the Volga and the Germans only 60 meters away, they fight on in the rain, and snow, and icy cold; they endure daily bombarments, tank attacks and hand-to-hand combat--all to hold onto the three insigificant buildings which, to them, represent all of Russia. They suffer incredible casualties, demonstrate incredible bravery, and get lots of medals, including the Order of Lenin. And during it all, the hero even finds time to fall in love, get married, and have a bachelor party. The novel ends just as the long-awaited Soviet counteroffensive begins to turn the tide in November 1942, giving life to Stalin's words, "There will be a celebration in our streets."

As a war correspondent, Simonov saw action on numerous fronts, and he witnessed the final battles in Berlin.

After the war, he published several volumes of sketches, including Letters from Czechoslovakia (Pisma iz Chekhoslovakii), Slavic Friendship (Slvanskaya Druzhba), Yugoslavian Notebook (Iugoslavskaya Tetrad), and From the Black to the Bering Sea - Notes of a Military Correspondent (Ot Chernovo do Barentseva Morya - Zapiski Voenovo Korrespondenta).

Simonov was sent on several trips aboard as a literary ambassador, including one famous trip to the United States in 1946 along with Ilya Ehrenburg. Simonov saw New York, Hollywood, and Detroit. And he returned to the Soviet Union with a brand new Cadillac. After his return, Simonov produced a play with an American theme: Russian Question (Russkii Vopros, 1947). This play features an American reporter who diseminates disinformation about the Soviet Union. He later repents, but suffers serious consequences as a result.

Simonov served as chief editor of the influential literary journal Novi Mir from 1946 to 1950 and again from 1954 to 1958. In this capacity, he oversaw the publication in 1956 of Vladimir Dudintsev's controversial novel Not By Bread Alone. He soon admitted, however, that this decision was a mistake. He was also the chief editor of Literaturnaya Gazeta from 1950 to 1953.

In 1952, Simonov published the novel Comrades in Arms (Tovarishchi po Oruzhiu). This was followed in 1959 with The Living and the Dead (Zhiviye i Mertviye). This latter novel, very similar to "Days and Nights", is set during the first year of the Great Patriotic War. It tells the story of Ivan Sintsov, a Red Army Politruk (political instructor) and army journalist who is vacationing when the Germans invade. Sintsov sends his wife and child back to Moscow and takes part in the many reverses of 1941 before joining the defense of Moscow at the end of the year.

Between 1958 and 1960 Simonov worked in Tashkent as Pravda's Central Asian correspondent.

Other works by Simonov include The Fourth (Chetvortii, 1961), Soldiers Are Not Born (Soldatami ne Rozhdaiutsya, 1964), and Last Summer (Poslednee Leto, 1971). A volume of his memoirs, Through the Eyes of My Generation, (Glazami cheloveka moevo pokeleniya) was published posthumously in 1988). This latter work includes a description of Stalin ordering, then closely supervising the content of one of Simonov's plays.

He served as a secretary of the Writers Union from 1946 to 1950 and again from 1967 to 1979. Between 1952 and 1956 he was a member of the Central Committee of the Communist Party. In 1974 he won the Lenin Prize, and in 1977 he was made a Hero of Socialist Labor.

Konstantin Simonov died in Moscow on 28 August 1979.