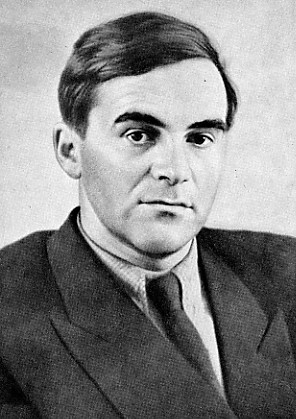 Granin, Daniil Aleksandrovich. (pseudonym of D.A. German), born 1 Jan 1918 in the town of Volyn, the son of a forestry worker. His early childhood was set amid an idyllic forest setting, but later the family moved to Leningrad. There, for some reason, Daniil's father was arrested and exiled to Siberia. This, of course, caused financial and other worries for the family. For example, Daniil was not allowed to join the Komsomol.

After the gymnasium, Daniil Granin enrolled in the electro-mechanical faculty of the Leningrad Polytechnical Institute. It was during his studies here that Granin began to write. His first undertaking was a historical novella about Yaroslav Dombrovsky, the Polish uprising of 1863, and the Paris Commune. Granin graduated from the Institute in 1940.

After graduation, Granin worked as a senior engineer in an energy laboratory, then in the design bureau of the Kirov Factory, where he worked on a device for locating the place of damage in power cables, research similar to that undertaken by the hero in Granin's future novel, Those Who Seek.

In 1941 Granin volunteered as a soldier and took part in the defense of Leningrad. He fought on the Baltic Front, got promoted and wounded, and finished the war in eastern Prussia as the commander of a company of heavy tanks. He was awarded two battle decorations.

Granin joined the Communist Party while at the front in 1942.

After the war, Granin returned to technical work, and helped restore Leningrad's electrical grid.

While he was at the front, Granin had met the writer Dmitri Ostrov. In 1948, when Granin finally finished his his tale about Yaroslav Dombrovsky, he showed it to Ostrov. Ostrov's advice was that Granin write about something he knows from his own life, such as the work of an engineer.

Near the end of 1948, Granin wrote Second Variant (Variant vtoroi), a short story about graduate students. It was published in the journal Zvezda in 1949 and was widely praised. However, his second published work, Argument Across the Ocean (Spor cherez okeana), was criticized for "worshipping the West".

Yaroslav Dombrovsky finally made it into print in 1951.

Around this time, Granin undertook post-graduate studies, doing research and producing technical articles. At the same time, he was working on his first novel, Those Who Seek (Iskateli). Published in 1955, this novel tells of the personal and professional trials and tribulations of an electrical engineer who shocks his academic colleagues by accepting a pay cut to take charge of a practical laboratory so that he can fufill his dream of developing a leak-locator (a device for locating breaks in electric power cables). Appearing near the beginning of the first period of Thaw in Soviet literature, Those Who Seek was able to take advantage of relaxed controls to aim pot shots at petty Party and government bureaucrats as well as to treat adulterers sympathetically--something which was unheard of prior to the Thaw.

Following the success of Those Who Seek, Granin gave up his scientific career and devoted himself solely to writing.

His next work was Personal Opinion (Sobstvennoe mneniey, 1956) in which the head of a research laboratory faces the criticism of a young subordinate. The younger man is an enthusiastic, undiplomatic, truthful, tactless, crusading dissenter--everything the director used to be in his youth. But, through a series of supposedly temporary compromises with authority, the director has transformed himself from youthful rebel into a successful, opportunistic careerist. He allows the brash and brave young engineer to be transferred so as to be rid of him.

In 1956, Granin was fortunate enough to take a cruise around Europe along with Konstantin Paustovsky, Rasul Gamzatov, and other writers. It was the first of many foreign trips for Granin, who was later to visit Australia, Cuba, Japan, and the USA.

Then came two more novels by Granin: After the Wedding (Posle svadby, 1958) and I Walk into the Storm (Idu na grozu, 1961), which continued the themes established in Those Who Seek.

Granin also produced a series of documentary works on scientists, addressing both their work and their moral character.

He was awarded the State Prize for Literature in 1978.

In 1979, Granin finished another novel, Picture (Kartina). In this novel, a provincial government official faces a tough decision when he learns that a needed new industrial development will destroy important cultural sites and despoil the local river. The fate of the city as well as his career rides on the decision.

Around this time, Granin, in collaboration with A. Adamovich, wrote his Blockade Book (Blokadnaya kniga), about the situation in Leningrad during the Nazi blockade of the city.

The Track is Still Noticeable (Eshche zameten sled) appeared in 1984. In this work, two middle-aged Leningraders recall--from two different points of view--a lieutenant they knew in the war. The revelation of the lieutenant's character through reminiscences and old letters leads to a reevaluation of opinion about him

Granin tackled both science and history in his 1987 novel Bison (Zubr). It tells of real-life Soviet geneticist N. Timofeeva-Pesovsky, who decided to spend 1925 to 1945 working in Germany instead of the Soviet Union, where Stalin and Lysenko were terrorizing the scientific community.

D.A. Granin is a Hero of Socialist Labor, the winner of two Orders of Lenin and numerous other orders and medals. At various times he served on the board of the Leningrad Union of Writers, was a deputy to the Leningrad Soviet, a member of the Leningrad Oblast Committee, and a deputy to the Supreme Soviet of the USSR.

Granin's Party membership came to an end in 1990.

Granin continues writing in post-Soviet Russia, producing short stories, the essay Fear (Strakh, 1997), and a novel about Peter the Great.


---
References:
http://www.khronos.km.ru/biograf/granin.html
http://www.peoples.ru/military/hero/granin/index.html