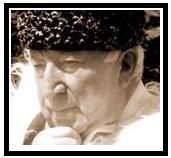 Gamzatov, Rasul Gamzatovich.. Born on 8 September 1923 in an Dagestani village. His father, the Peoples Poet Gamzat Tsadas, was his first teacher and mentor in the study of poetry. Gamzatov wrote his first poem when he was nine years old.

Gamzatov studied at the pedagogical institute and, in 1940, returned to teach in his village school for a short time. He then took on a series of jobs, including director's assistant in a traveling theatre troupe, and worker for radio as well as the newspaper Bolshevik Gor.

In 1943, he published his first collection of poems, Firey Love and Burning Hate, in Avar, the language of Dagestan. That same year, he became a member of the Soviet Writers Union

Between 1945 and 1950, Gamzatov studied at the Gorky Institute of Literature in Moscow. His first collection of poems in Russian was published in 1947. Since then, he has published over 20 books in both Russian and Avar.

Gamzatov translated many of the best Russian poets into the Avar language. Among his many translations are the works of Pushkin, Lermontov, Mayakovsky, and Esenin.

His poetry collection Year of My Birth (1950) was awarded the USSR State Prize in 1952. Gamzatov also won the Lenin Prize for his 1962 collection Lofty Stars. Some of his other titles include, Word About The Older Brother (1952), Dagestani Spring (1955), Miner (1958), My Heart is in The Hills (1959), Two Shawls, Letters (1963), Rosary of Years (1968), By The Hearth (1978), Island of Women (1983), Wheel of Life (1987) as well as the lyrical novel My Dagestan (1967-1971).

In 1959, Gamzatov was declared a People's Poet of Dagestan. In 1974 he became a Hero of Socialist Labor.

In 1950, Gamzatov was named Chairman of the Dagestani Writers Union, a post he held until his death.

In connection with the approach of Gamzatov's 80th birthday, the entire of 2003 was declared the Year of Rasul Gamzatov in Dagestan.

On 3 November 2003, Rasul Gamzatov passed away in the Central Clinical Hospital in Moscow.
---
References: Short Biographical Dictionary. Moscow, 2000.