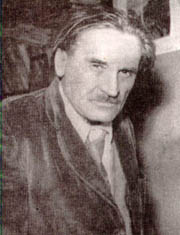 Olesha, Yuri Karlovich. Born 3 March (19 Feb, Old Style) 1899 in Elizavetgrad, Ukraine, the son of former land owner. Family moved to Odessa in 1902. He began to write poetry in the gymnasium. After graduation from the gymnasium, he enrolled in the law faculty at Novorossik University. At the same time, he participated in literary discussion groups in Odessa, along with Ilya Ilf, Valentin Kataev, and Eduard Bagritsky.

In 1919, despite the monarchist attitudes of his parents, Olesha joined the Red Army. In 1921 he was working in Kharkov as a journalist-propagandist for the Bureau of Ukrainian Publications. In 1922, he published his first story, Angel, and moved to Moscow. There he went to work for the railway journal Gudok, producing satirical verse under the pseudonym of Zubilo (Chisel). Other staff members included Ilf and Petrov, Kataev, Isaak Babel, and Mikhail Bulgakov. Two collections of poetry were published in 1924 and 1927.

His novel Envy (Zavist) also appeared in 1927. In Envy, Andrei Babichev, a hero of the Soviet people, takes in Nikolai Kavalerov, an aimless drifter, and tries to help him. Kavalerov--irresponsible, self-centered and deluded about his own worth--dreams of personal glory and soon comes to envy and despise his host. Kavalerov hooks up with Andrei's brother, Ivan, who claims to have created an "Ophelia machine" to annihilate his enemies. Together, Kavalerov and Ivan cook up a "conspiracy of feelings" to spit in the face of the new era. Kavalerov even plots the murder of Babichev. It all comes to nothing and, in the end, Ivan and Kavalerov settle into a life of indifference. When first published, Envy was a critical success. Pravda wrote:


Olesha's style is masterful, his psychological analysis subtle, his portrayal of negative characters truly striking. . . .The novel exposes the envy of small despicable people, the petty bourgeois flushed from their lairs by the Revolution; those who are trying to initiate a "conspiracy of feelings" against the majestic reorganizatioin of our national economy and our daily life.
A stage version of the novel, entitled A Conspiracy of Feelings appeared in 1929.

"Three Fat Men", written in 1924, was published in 1928. It was the first revolutionary fairy tale in Soviet literature. The critical reaction at first was varied. V. Boichevsky in an article "How Stories For Children Should Not Be" saw it as a "sugarcoated" presentation of revolution. A.V. Lunacharsky, however, saw in it "heart-felt apologetics by the artistic intelligentsia accepting the revolution". Stanislavky and the Moscow Art Theater premiered a dramatic version of the story in May of 1930. A ballet version with music by V. Oransky was presented in 1935. It has also been turned into an opera (composer, V. Rubin, 1956), a film and several radio versions.

Olesha himself divided his short story work into two periods. The first is associated with his collection "The Cherry Seed", which included the stories The Cherry Seed (1929), The Chain, Love, Liompa (1927), The Legend (1927), The Prophet (1929), I Look Into The Past (1929), Human Material (1929), My Acquaintance, In The Circus, and Notes of a Writer.

According to Olesha, these works were "mainly about myself, thoughts about two worlds, about the position of art in a new society". Typical is the story The Cherry Seed , in which a dreamer spends most of his time in the invisible world of his imagination. He falls in love with a real woman, who does not return his love. She gives him a cheery seed, which he plants in a vacant lot, hoping that a cherry tree will grow to stand as the child of their love. However, it turns out that the spot where he planted the seed is scheduled to be the construction site for a new concrete giant called for by the Five Year Plan. Nonetheless, the dreamer imagines that the cherry tree will grow as part of a garden in front of the building.

The second or "new" period of his short stories dates from the mid-1930s to 1947. Olesha explained:
These are stories which I called "new" not because they were recently written but because they were new for me--these are stories not about myself but about Soviet people.
In the twenties, critics warned Olesha against an unconscious preaching of idealism and of a world view not centered on labor. Olesha answered his opponents:
It's possible that in 30 years I'll be read as a proletarian writer. Perhaps this is a proud declaration. Perhaps I speak too arrogantly. But I do this fully consciously. All the same, I feel I work for the proletariat. ("Soviet Theater", 1932, No.3).
In the first half of the 1930s his work (Aldebran, Conversation in the Park and others) began a transition to themes associated with the new Soviet reality. At the First All- Union Congress of Soviet Writers, Olesha said:
I have given myself the task of writing about young people. I shall write plays and stories where the main characters will decide problems of a moral character. I am certain that communism is not only an economic, but also a moral system, and the first embodiments of this side of communism will be young people.
The works of his "new" period--Stadium in Odessa, The First of May, Spectacle, We Are in the Center of the City and others--demonstrated a stylistic artlessness. The play A List of Benefits appeared in 1931.

During the 1930s, Olesha's work was subject to criticism. Envy was condemned for "reactionary" stylistics, "formalism", "naturalism", "objectivism", and "cosmopolitanism". And in 1937 Olesha was accused of antihumanism. During this period, Olesha weathered the storm by refraining from much creative literary work, limiting himself to translations and screen plays, including those for the films Soldiers of the Swamp (Bolotniye Soldaty) and Engineer Kochin's Mistake (Oshibka Inzhenera Kochina).

During the war years, Olesha was evacuated to Ashkabad, Turkmenistan, along with the Odessa Film Studio. Military themes found expression in his "Turkmen" stories. The 40s ended with the story Friends.

He began work on the quasiautobiographical "No Day Without a Line" in the early 1930s and continued work on it throughout his life. In 1956 he wrote to his mother:


My main work right now is compiling a book which will be called "Memories and Thoughts". This is a book about myself, about literature, about life, about the world. There will be many childhood memories, a lot about you, about Papa, Wanda, our acquaintances.
He often read excerpts from this work to friends. A fragment of one of these readings was recorded and released on a record "Writers Speak" (DO18421-2). The book appeared posthumously in 1965.

Olesha died of a heart attack on 10 May 1960 in Moscow.