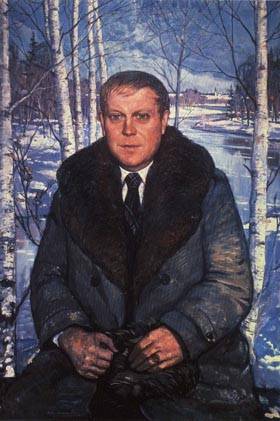 Soloukhin, Vladimir Alekseevich Born into a peasant family on 14 June 1924 in the village of Alepino, Vladimir Oblast. After school, he studied at the engineering institute in Vladimir. During the Great Patriotic War, he served in the special unit assigned to guard the Kremlin. His first poems were published in Komsomolskaya Pravda in 1946, and in that same year he was admitted to the Gorky Institute for Literature, from which he graduated in 1951. His first collection of poems, Rain on the Steppe, appeared in 1953. Other poetry collections were Zhuravlikha (1959), Holding Flowers in Hands (Imeiushchii v Rukakh Tsvety, 1962) and To Live on Earth (Zhit' na Zemle, 1965).

He traveled much throughout the Soviet Union and abroad, composing various reports and sketches. His first book of prose was a collection of sketeches entitled The Birth of Zernograd (Rozhdeniye Zenograda), which was published in 1955. A second collection, Gold Mine (Zolotoye Dno), came out in 1956. This was followed by The Villages of Vladimir (Vladimirskiye Proselki, 1957), a traveller's diary of the countryside, traditions, customs and legends of the area of Vladimir.

Other works include the autobiographical novel Mother-Stepmother (Mat-Macheka, 1964), Letters from the Russian Museum (1966), Black boards (Cherniye Doski, 1969), the poetry collection From Lyrical Positions (S Liricheskikh Positsii, 1965), Olepinskiye Ponds (Olepinskiye Prudi, 1973).

In 1974, in connection with the author's 50th birthday, Molodaya Gvardiya published Soloukhin's Wreath of Sonnets (Venok Sonetov). The book consists of 15 sonnets. The last line of each sonnet is actaully the first line of the next sonnet. The last sonnet, the 15th, consists of these 15 last/first lines.

Time to Gather Stones (Vremya Sobirat Kamni, 1980), consists of five essays on themes of cultural and historical restoration and ecological preservation: 1. A Visit to Zvanka; 2. Aksakov's Territory; 3. Greater Shakhmatovo; 4. A Time to Gather Stones; 5. Civilization and Landscape.

Disaster with Doves (Bedstcviye s Goublami) was written in 1980. The Funeral of Stepanida Ivanovna (Pokhorony Stepanidy Ivanovny) was published in 1989 in the collection Smekh za Levym Plechom.

Many of his stories are autobiographical in nature, such as A Midsummer Day's Game, in which he instructs his granddaughter in a children's game of his generation. The girl then goes on to adopt the game to modern conditions.

Between 1964 and 1981, Soloukhin served on the editorial board of the journal Molodaya Gvardiya.

Once, while on a trip to America, Soloukhin snuck off to Vermont to meet with renegade writer A.I. Solzhenitsyn.

The theme of Russian nature and the importance of its preservation was central to Soloukhin's work. His poetic and lyrical essays describe the Russian village and its inhabitants. He is well known for his short stories, many of which are autobiographical.

Vladimir A. Soloukhin died in Moscow on 5 April 1997. He is buried in his native village of Alepino, under a tall pine tree, in a graveyard on a bluff overlooking the river.
---
Photo: