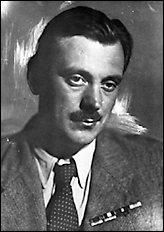 Mikhalkov, Sergei Vladimirovich. Born on 12 March 1913 (27 Feb, Old Style) in Moscow. His father helped develop the boy's love of Russian literature, acquainting him with the works of Mayakovsky, Bednii, and Esenin.

His school years were spent in Pyatigorsk, where he graduated from middle school in 1930.

Mikhalkov's first poem Road (Doroga) was published in the journal Na Podeme in 1928. Also, in 1928, he joined the Tver Association of Proletarian Writers (TAPP). His poems became a regular feature in the Pyatigorsk newspaper Terek.

In 1930, Mikhalkov moved to Moscow and got a job in a fabric factory. For a time he also took part in geological expeditions to eastern Kazakhstan and along the Volga. His poetry began enjoying increasing success, and in 1933 he was able to earn his living exclusively from his writings, joining the collective of young writers at the magazine Ogonyok.

Between 1935 and 1937, Mikhalkov studied at the Gorky Institute of Literature.

Mikhalkov's first children's poem, Three Citizens (Tri Grazhdanina), appeared in the journal Pioneer in 1935. This was followed with more works for children--The Happy Hiker (Veselii Turist), Stubborn Foma (Upryamii Foma), Me and My Friend (My s Priyatelem), Uncle Stepa (Dyadya Stepa), etc--which eventually appeared in his first collection (1936).

In 1939 he was called up for service in the Red Army. Working as a war correspondent, he took part in the liberation of western Ukraine.

Mikhalkov also wrote the lyrics for the Soviet national anthem in 1944.

Continuing his work for children. Also, at the suggestion of A. Tolstoy, he under the fable genre. His first fable, The Fox and The Beaver (Lisa i Bober) was publised in Pravda. This was followed by The Drunken Rabbit (Zayats Vo Khemliu), Two Friends (Dbe Podrugi), Ongoing Repair (Tekushchii Remont), and many others. Eventually, he produced over 200 fables.

Mikhalkov also penned numerous plays including Special Task (Osoboye Zadaniye, 1945), Red Tie and (Krasnii Galstuk, 1946). Another play, I Want To Go Home (Ya Khochu Domoi!, 1948), exposed the despicable behavior of British forces after World War II, holding displaces Soviet children as prisoners, not allowing them to return home to the USSR.

In 1949, Mikhalkov won the Stalin Prize for a play entitled Ilya Golovin, 1949). It tells the story of the rise, fall, and regeneration of a Soviet composer. Somewhat based on the stories of Shostakovich and Prokofiev, it tells of a composer who comes to fame and privilege, but then drifts off into "imcomprehensible and formalist" music. Pravda of course condemns him for this, while Voice of America sings his praises. A friend of the composer, a Red Army general, advises him to once again write music for the masses. The composer repents and takes his friend's advice. He again becomes a fighter for peace and ends the play with adulations of Stalin.

In 1962 Mikhalkov founded and served as the chief editor for the satirical film journal Fitil'.

His son is film actor and director Nikita Mikhalkov, star and director of Burnt By The Sun.

Recently, Mikhalkov reworked his lyrics of the Soviet national anthem for the Russian Federation version of the anthem.

In 2003, in connection with his 90th birthday, Mikhalkov was visited by Vladimir Putin, who gave him some nice presents.
---
References: Russkiye Pisateli i Poeti. Kratkii Biograficheskii Slovar. Moscow, 2000.
http://www.khronos.km.ru.biograf/mikhalkov.html