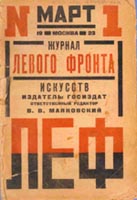 LEF - The Left Front of Art (Levii front iskusstva).

LEF was formed in 1922 as an alliance of pre-war Futurists and Formalists. Its stated goal was to rationalize the production of art forms that would serve the Revolution, and to promote the discovery and utilization of avant-garde methods. As Mayakovsky put it, LEF was the "encompassing of the social theme by all the instruments of futurism." Mayakovsky and others protested against the resurgance of old forms and cliches in literature and political thinking; these traditional expressions they mocked as a "dead language". At the same time, they asserted that literature was a craft and the writer a craftsman, rejecting the notion of art as a reflection of the author's pysche. The activity of a writer-craftsman was to be determined by the demands of his client, the readers of the proletarian state. Emphasis was placed on "literature of fact" and "thingness" (veshchnost')

Leading members of LEF were Vladimir MAYAKOVSKY, Osip BIRK, Nikolai ASEEV, Sergei TRETYAKOV, Viktor SKLOVSKY, photographer Aleksandr RODCHENKO, film-maker Sergei EISENSTEIN, theater director Vsevolod MEYERHOLD, and (briefly) Boris PASTERNAK.