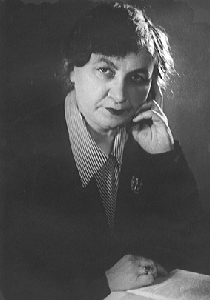 Karavaeva, Anna Aleksandrovna. Born 27 Dec 1893 in Perm into the family of an office worker. After graduating from the gymnasium in 1911 she spent two year teaching in a village school. She then went on to study at the famous Bestuzhev Women's College in Petersburg, from which she graduated in 1916.

Following the Revolution, Karavaeva taught in a Communist Party School in Baranaul. It was also here that her first published writings began to appear in 1922. She joined the Communist Party in 1926.

Her early works concerned the struggle for a new style of life in the villages along with petty-bourgeois disenchantment with the new order; for example, her story Wing (Fligel', 1923) and the novella Courtyard (Dvor, 1926).

In 1925 she presented a historical novel, Golden Beak (Zolotoi klyuv), which was a tale of runaway Siberian peasants and workers in a state mine under Catherine II.

Her next novel, Sawmill (Lesozavod, 1926), presented the beneficial influence of socialist construction on the life of the peasantry.

Between 1931 and 1938 Karavaeva served as chief editor of the literary journal Molodaya Gvardia. In this capacity, she oversaw the preparation and publication of Nikolai Ostrovsky's proletarian masterpiece How the Steel Was Tempered. (See "Remembering Ostrovsky" by Anna Karavaeva.)

In the 1930s and later, Karavaeva also addressed the issue of the moral education of young people in diverse settings--in the pre-Revolutionary intelligentsia; the Komsomol during the Civil War; and among contemporary workers. Such works include Stories about Knowledge (Rasskazy o pozhanii, 1934); the novel Lena from Crane Grove (Lena iz Zhuravlinoi roshchi, 1938; the collection of stories First Generation (Pervoe pokolenie, 1959); and the novel The Borders of Life (Grani zhizni, 1963).

During the Great Patriotic War (World War II), Karavaev served as a correspondent for Pravda and published a collection of patriotic sketches entitled Stalin's Masters: Tales of People and Days (Stalinskie mastera: povetsovanie o liudiakh i dnyakh, 1943). The heroic labor and struggle of those in the rear during the war were featured in her trilogy Motherland (Rodina), consisting of the novels Fires (Ogni, 1943), Running Start (Razbeg, 1948), and Native Home (Rodnoi dom, 1950). This trilogy was awarded the Stalin Prize in 1951.

Karavaeva published two books of memoirs: Along the Roads of Life (Podorogam zhizni, 1957) and Star Capital: notes and Reminiscences of a Contemporary (Zvezdaya stolitsa: Zapiski i vospominaniya sovremennika, 1968).

Anna Karavaeva was a delegate to the International Congress of Writers in Defense of Culture (1935). She also served on the editorial board of the journal Soviet Woman. She was awarded the Order of Lenin five times as well as numerous other medals.

She died in 1979.
---
References: http://www.peoples.ru/art/literature/prose/belletristika/karavaeva/
"Handbook of Russian Literature", edited by Victor Terras. Yale University Press. 1985.