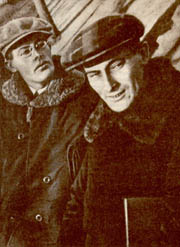 Ilf, Ilya and Petrov, Evgeny. Pseudonyms of Ilya Arnoldovich Fainzilberg and Evgeny Petrovich Kataev, respectively. Ilf was born on 15 October 1897 and Petrov on 13 December 1903, both in Odessa. Petrov's older brother was the writer Valentin Kataev. Ilf began his career as a journalist at age 18. Petrov, the son of a teacher, also began as a news correspondent, although he worked briefly as a criminal investigator.

Ilf and Petrov, independent of one another, arrived in Moscow in 1923. Ilf went to work for the magazine Gudok, writing satricial essays. Petrov found work with the journal Krasny Perets. Petrov moved over to Gukok in 1926.

They teamed up, and by January 1928 they had produced the novel Twelve Chairs. The hero of the novel was Ostap Bender, a comic hero in the classic sense. A cynical con man, Bender chases around the Soviet Union searching for a treasure which was hidden into one of twelve chairs, all of which were sold to different parties. One of the most hilarious chapters in the book is "Interplanetary Chess Congress", still perhaps the greatest piece of chess humor ever written.

This broad satire of various aspects of Soviet society during the NEP (New Economic Policy) was a tremendous success, and the novel achieved practially cult status. Readers memorized whole chapters of the work, and many expressions from the novel passed into common parlance.

Their next novel, A Pure Soul, appeared in 1928, and they also printed a cycle of satrical stories, "1001 Days, or a New Scheherazade", using the pseudonym of F. Tolstoevsky.

Ostap Bender, who, for his crimes of greed and individualism, was killed at the end of Twelve Chairs, was revived in 1931 for another novel, The Golden Calf. Soviet society again comes in for some sharp satire as Bender chases after a Soviet multi-millionaire, hoping to relieve him of at least one of his millions. Bender gets his money, but is quickly stripped of it as he tries to flee the country. It actually took over a year to get approval to publish The Golden Calf. As A. Fadeev wrote to Ilf and Petrov: "You have a very nice hero, Ostap Bender. But really, he's just a son of a bitch." (Journal "Odessa", No. 8, 1997)

In 1933 and 1934, Ilf and Petrov toured Europe, and in 1935-1936 they drove across America. The later trip was chronicled in their work One-Storied America. Another satire, Tonya (1937) portrays the life of Soviet people compelled to live in a capitalist society.

Ilya Ilf died of tuberculosis on 13 April 1937. After that, Petrov wrote for the newspaper Literaturnaya Gazeta and the magazine Ogonyok and produced film scenarios. Petrov died in a plane crash on 2 July 1942 while working as a war correspondent in Crimea.